| | |
| --- | --- |
| | Boost : |
---
At Monday 2004-07-26 12:34, you wrote:
>Victor A. Wagner Jr. wrote:
>
>>I picked this up also and am running it now.
>
>Great! (the test, not the result, unfortunately...) Seems to me that this
>compiler is quite unstable at the moment.

well, all of the errors originally reported were due to the assumption on
the part of the script as to where the latest beta would be
located. That's fixed, and I just captured the "show stopper" error

9e2a6bf.jpg

I've continued on from that point and will likely have a better result set
shortly

>Stefan
>
>_______________________________________________
>Unsubscribe & other changes: http://lists.boost.org/mailman/listinfo.cgi/boost
>

Victor A. Wagner Jr. http://rudbek.com
The five most dangerous words in the English language:
"There oughta be a law"


---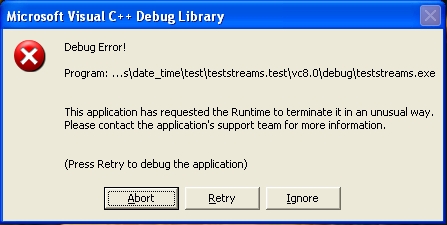 ---
Boost list run by bdawes at acm.org, gregod at cs.rpi.edu, cpdaniel at pacbell.net, john at johnmaddock.co.uk