| | |
| --- | --- |
| | Boost : |
---
At 23:28 27/11/2004, you wrote:

>You are a man of many talents Jonathan, those are excellent logos. #3 is
>my favourite, I would go so far as to wear clothing with the logo on it.

I agree its one of the better, tho the c looks too much like a copyright
symbol for my tastes.

>(ps I think the rocket idea should be dropped, the world doesn't need
>another phallic symbol)

I agree.

In the spirit, I thought I'd have ago.. very white board.. could be
rendered better.. but there is something simple I like about it.


---
Outgoing mail is certified Virus Free.
Checked by AVG anti-virus system (http://www.grisoft.com).
Version: 6.0.788 / Virus Database: 533 - Release Date: 01/11/2004

---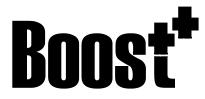 ---
Boost list run by bdawes at acm.org, gregod at cs.rpi.edu, cpdaniel at pacbell.net, john at johnmaddock.co.uk