| | |
| --- | --- |
| | Boost : |
---
On Mon, 2004-11-22 at 16:06 -0600, Rene Rivera wrote:

> True, but it will likely be easier to decide on the substance of the
> logo without the text. No distractions that way. Not that one should
> forget totally about the text. But it's much easier to think about what
> can represent Boost, without the word Boost in it.
>
> So far I see three different concepts for logo:
>
> 1) The "<>" brackets.
>
> 2) The "++" operator.
>
> 3) The rocket.
>
> Perhaps discussing what the logo substance is before getting to deep
> into the design is best?
>

I rather like the idea of using a rocket, because it symbolizes the use
of Boost to launch C++ library proposals into the standard.

What about some variation of this for it? The rocket is intended to
look a bit like the space shuttle's SRB's.

Modifications might include strapping the upper arc of the "C" onto the
rocket, adding a pinch of detail to the rocket, or adding "boost" onto
the rocket in some way.

-Jonathan

---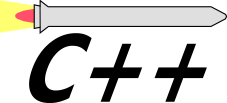 ---
image/svg+xml attachment: stored
---
Boost list run by bdawes at acm.org, gregod at cs.rpi.edu, cpdaniel at pacbell.net, john at johnmaddock.co.uk